Costa Rica's biggest attractions are found in nature and the best way to live it is to immerse yourself in it. Fly through the jungle and take your adrenaline to the fullest with our Zipline tour.
We will take you through 18 platforms, with a total of 2.400 meters (7,874 feet) of fun and adventure. You will travel through the wonderful trails of Nativo, filled with flora and fauna that our certified guides will be happy to show you and teach you their knowledge about the majestic nature we have in the southern Caribbean of Costa Rica. You will learn about our native plants, as well as the use indigenous people have given them throughout history.
Looking for a conscious and responsible development, we have built our platforms on the tree tops, without cutting down or altering the forest. All our platforms and bridges are made of recycled plastic wood or wood harvested in our forest, our cables are made out of carbon fiber making them extremely secure and noise pollution free in order to respect the fauna that lives in the jungle.
In this wonderful tour you will be in full contact with nature, without going through invasive architectures that make you forget (even a second) that you are in the middle of one of the richest ecosystems on our planet. In one of the sections of the air route, we will have the possibility to make the descent from a platform to the ground with the Tarzan swing. Add another twist to the adrenaline rush and try our Superman cable for only a little extra*! You will slide through 450 meters (1,476 feet) at a height of 90 meters (295 feet), at its highest point, in the same flight position as the famous superhero. Our Zipline Tour is suitable for children from 4 years of age and our guides are highly trained to assist people with different abilities to ensure that everyone has an unforgettable adventure. You can choose the 8:45 am or 1:45 pm Zipline Tour according to your preference and have 4 hours of adventures and unforgettable memories.
What to bring: Comfortable shoes, mosquito repellent (if you do not have a natural repellent, we will provide it for you).
Difficulty Level: Moderate.
Recommendations: Not suitable for children under the age of 4, pregnant women, people weighing 120 kilos (264 pounds) or more or people who are not in a good physical condition. For safety reasons children less than 1.20m (3.9ft) tall cannot make the Superman cable.
PRICE: $54 per person for general public, $27 per child from 4 to 11 years old, $44 for nationals and residents. *Combination with Superman an additional $12 per person.
Photo Gallery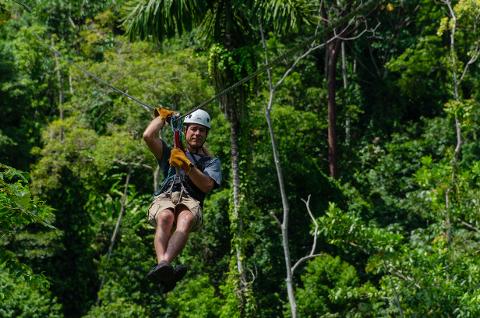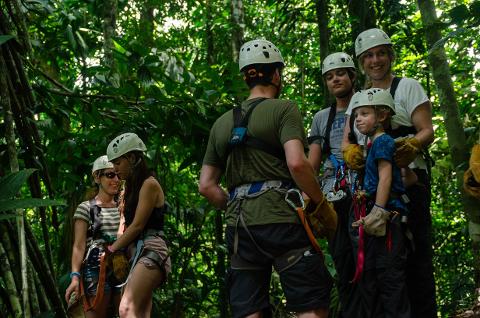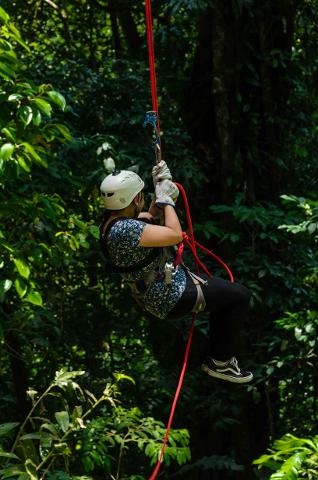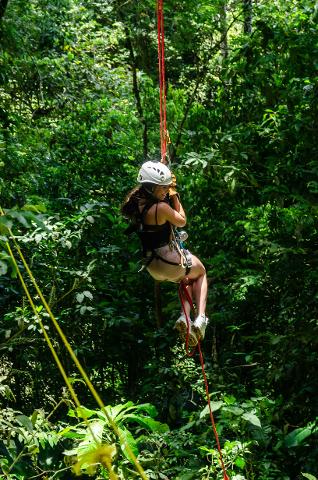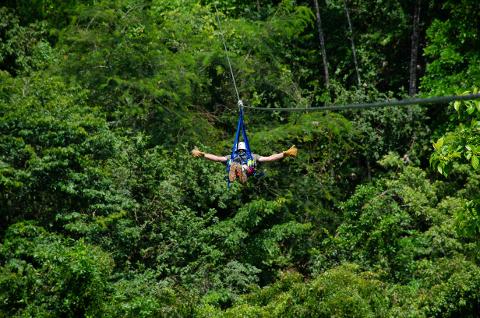 Terms and Conditions
1. Full payment is required at least 24 hours prior the date of the tour to confirm your reservation and hold space. For last minute bookings please check availability before booking as bank fees are not refundable in case there is no space for the tour you required 2. All quotes given and reservations made on phone have to be re-confirmed in writing and paid at least 24 hours prior the date of the tour, otherwise the space will not be saved. 3. Rates are subject to change last minute. 4. You have to be in a good physical condition to participate to our tours. Our tours are not recommended to persons with epilepsy, pregnant women, people with recent surgeries, person with weight over 120 kg. No refund will be granted to persons who do not respect these restrictions and/or the recommendations specified at the end of the descriptions of our tours and make a booking anyway. 5. Once your tour is paid and confirmed you will receive an email with a confirmation number, pick up place and meeting time. 6. All charges will be made in US dollars and the exchange rate will be the official one of the bank. Payments by Paypal and credit cards have no extra cost. However Paypal or your bank may apply a transaction fee onto your charges. 7. In the event your plans have changed and you will not able to respect your bookings or you need to modify them we will do our best to rebook them, please note fees and penalties may apply. 8. Clients are responsible for any and all fees for modification or cancellation, made by the client. 9. All tours will be available not matter the weather is, unless the current conditions are stated as unsafe by us. Should the client cancel and we still run the tour no refund or credit will be granted. The weather is very unpredictable in Costa Rica so come prepared for rain. 10. We are not responsible for any unforeseen event that may cause you to cancel your tour. This includes any illness, pregnancy, weather condition or natural disaster, or any other reason that has nothing to do with us. 11. For single bookings, cancellations with less than 24 hours notice are not refundable, with less than 48 hours 50% refund (less any bank or vendor charges), cancellations with more than 48 hours 100% refund (less any bank or vendor charges). Cancellations of groups of 10 + persons bookings with less than 7 days notice are not refundable, with less within 8 an 14 days 50% refund (less any bank or vendor charges), cancellations with more than 14 days 100% refund (less any bank or vendor charges). For any cancellations bank fees may also be applied. 12. Cancellations are subject to bank and paypal fees. 13. All cancellations must be made in writing and are subject to the terms and cancellation policies. 14. No shows will not receive any refunds. 15. We reserve the right to cancel tours for reasons beyond our control (extreme weather, natural disasters, road closures, etc.) and if conditions would make them unsafe, without prior notice. 16. Out of respect for our customers, the departure time is very punctual, so we recommend arriving in advance. The tour will begin at the stipulated time, those who arrive late will not be expected and the refund or date change option will not be offered for those who do not arrive on time. 17. All rates are subjected to taxes according to laws of Costa Rica.